I hope this is ok but I need people's help!
I made this really cute bead keychain (all made by hand) and I wanted to make more.
This is one of Kamenashi Kazuya. Kame= turtle and Nashi=pear.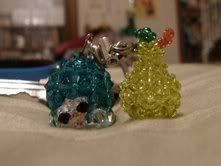 I would like to make alot of JE beads keychain so I kind of need help. KAT-TUN, NEWS, Kanjani 8... any group! If anyone wants to buy it, I can name the price for you, but it is a little pricey so watch out on that one! Thanks for your help!