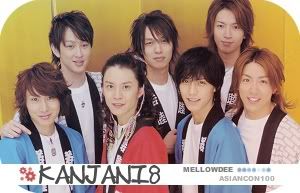 Artist: Kanjani8
Category: Music
Themes posted: Artist Choice
# Icons in post: 15
Completed: 100/100 - COMPLETE!
Credits:
boys_paper | Hadaka.de | Icon Table Generator

TEASERS







( KANJANI8 ICONS... )

(Crossposted to a few places)

-----

Thanks to everyone who's enjoyed the icons. It was my first icon challenge, and I had a lot of fun making them.

And a quick question. Could someone PLEASE refresh my memory on how Ryo injured his hand/finger/pinky?! I can't for the life of me remember. Or maybe it wasn't announced how? Just that it was? Thank you!

And for those who may have missed it, I have 12 Suka J episodes uploaded. :) Enjoy enjoy.