25+ Orthros no Inu icons!
Ryo in black & white ♥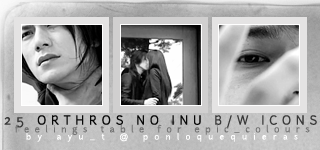 ( The expression I showed when smiling with other people reflected my past's dark shadow )
Greetings to all Eighters, I would like to ask and seek assistance... I just knew that Eito had appear in Metrock Festival... However, I don't…

Can anyone share the file from YNA if you have it? It seems all the links are dead.

To put it quick: Many shows to sub, so little time Infinity subs need your help to decide the order of shows we should sub! VOTE HERE!