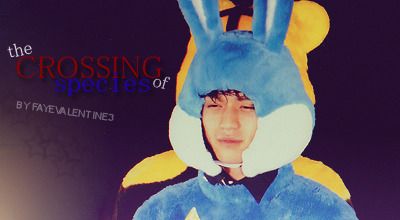 Title:
The Crossing of Species
Pairing:
Nishikido Ryo X Uchi Hiroki;
Rating:
PG
Genre:
Fantasy; Fable; Furry; Fluff; Weird/Suspicious; Crack; Au; IDEK; Romance; Friendship; LOL
Disclaimer:
This is a work of fiction. No animals or magical creatures were truly hurt in the making of this fic.
Characters
(right click on the names)
:
Rabbit!Ryo
,
Hunter!Uchi
and a special appearance by
Tiger!Kura
<- yes, this is exactly how you should picture them :D
Summary:
This is the story of the cute blue rabbit, the handsome hunter who wanted to capture him and the big yellow tiger who wanted to eat him. It's a hard life for such an adorable creature.
A/N:
Written because Uchi in Shock was the definition of handsome and Ryo!Rabbit & Tiger!Kura in the 8uppers tour were the cutest creatures ever in JE. :D<3
(Once upon a time in a far, far western land...)