So I went to the only shop that I know that has this mystery preorder of the kanjani goods today. I have to say that I've been in 3 or 4 other seven eleven and they didn't have any preorders at all.
There are two types of goods. The regular ones and the lottery ones.
The regular ones are: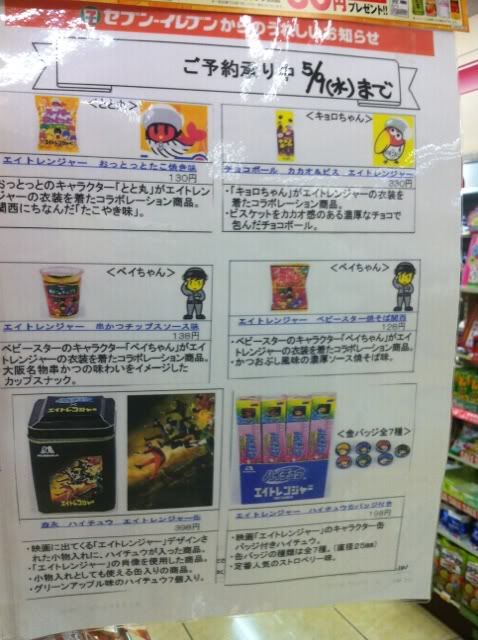 Mini Uchiwa 300 yen
Clearfile 500 yen
Notebook 500
Mini towel 500 yen
Strap 900yen
Kitty plushie 680 yen
Kitty strap 420 yen
Memo notes 500 yen
イヤホンジャック500円 (this thing is now trending in Japan, sort of. You know how in iphones you can't put straps, they're using the earphones hole to make some kind of earphone jack? so they can decorate it. So that's what this is.)
And then there's sweets and chips and stuff.
You can preorder or buy (in July) the regular goods one by one. Meaning, if you only want the strap or the hello kitty plushie you can buy just that for the prices they have.
Then there's the lottery goods. Those goods are: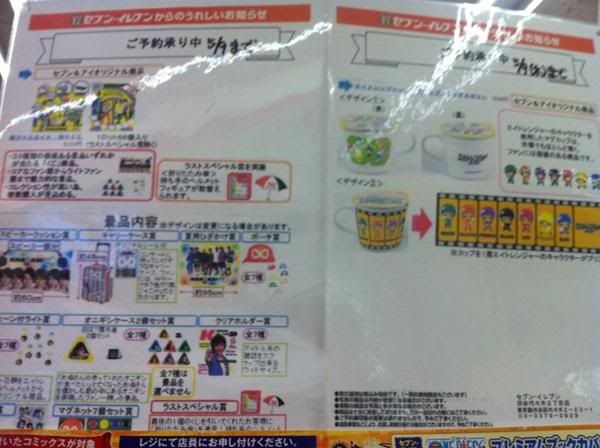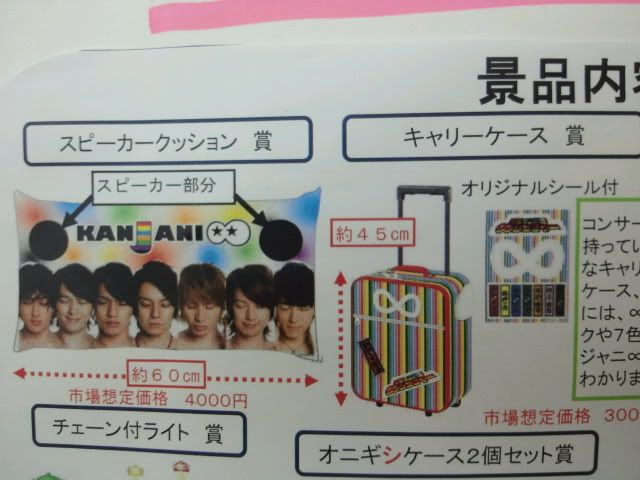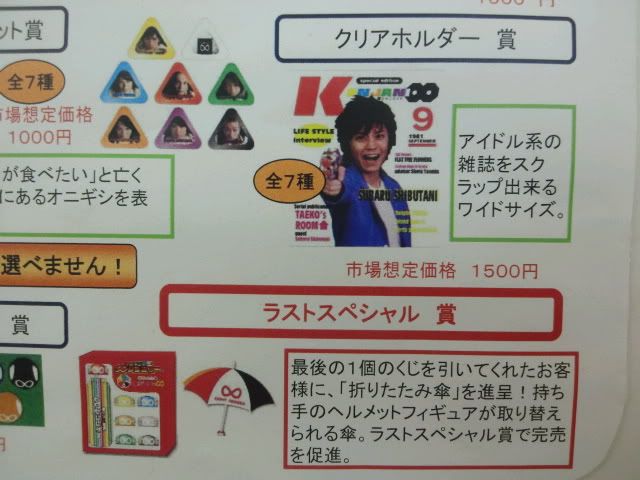 Cushion with speakers
Small suitcase
Summer blanket
Ranger helmet pouchs (7 types)
Onigishi case (7 types, 2 on each)
Helmet Magnets (1 set of 7 magnets)
Mirror
"Clear holder"?
チェーン付ライト (This is like the weirdest thing eer. It's like a helmet that has a button and when you press it it flashed a light that like... shows their faces... idek)
In the pictures they show an estimate price in the market but that's not their prices because since it's a lottery you can only buy tickets and you will get whatever is in the paper you get. There are 33 different goods, counting the 7 versions that some of them have, like the pouch and all.
From 7/7 you can buy ballots for the lottery, 500 yen each. In this type of lottery you always get a price. But it can be anything, from the magnets to the bag.
This shop that is making a preorder offers you the chance to buy a set for 33000 yen. What does that mean? It's a bit difficult to explain but I'll do my best xD
Remember it's a lottery? Every shop can only order the lottery goods in a set of 66 pieces. I said before that there are 33 different goods, but every set has 66 goods. As any lottery, there are some big prices and some small prices. You always have more chances to get a smaller price than a big one, right? So it's the same here, out of 66 there's only one cushion for example but there are 10 mirrors. Because a shop can't split the sets, if you order a set, you don't only get the 33 different goods once, but you'll get the repeats too. Meaning, you will have 10 mirrors. Basically, you will have to order the same thing a shop orders to have a lottery so you will get 66 things, 33 of which are repeats. 33000 yen is basically 500 x 66 xD
I think that's all. If you have any questions or if you didn't understand what I was talking about at all, ask, really. I'll try to explain it better xD