Selling this auction style on my selling journal (
lunasells). Here's the basic info.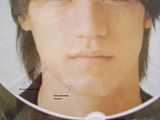 ⇒ Ryo Uchiwa
⇒ Selling this because I have two now. Both look the same, but I included the extra picture of the area around his mouth because neither seem to have been attached right (is that the right way to say it?) so it looks a little funky on both. Check the picture, that's the best I can do. Still in the original wrap, new.
⇒ $12 shipping anywhere in the US, includes insurance
⇒ STARTING BID: $25.00 USD


Interested?